Background
PAX Programs Incorporated was founded by Alison Armstrong and Joan McClain in 1995. We are mission-driven and in the business of educating men and women about the predicament of gender, the interaction of masculinity and femininity, and the principles of the paradigm of Partnership. PAX (the Latin word for "peace" and an acronym for Partnership, Adoration and Xtasy) creates peace between the sexes by providing unique and immediately useful information and a transformation in how we see ourselves and each other.
Our flagship program, Understanding Men (formerly The Queen's Code/Celebrating Men, Satisfying Women®), is an online educational program to transform the way both women and men relate to men. It facilitates the reconciliation many people are seeking with men and outlines the skills necessary to realize powerful, satisfying relationships with all men.
To date, tens of thousands of women and men, age 17 to 83, have completed Understanding Men/The Queen's Code Workshop/Celebrating Men, Satisfying Women®, and a majority of them have attended advanced courses.
PAX is a relatively small organization with less than 20 full and part-time employees.
Consistent with our commitment to ensure that our education is available to all future generations of humanity, we are focused on these areas: capturing our information and insights; keeping our programs current and relevant; making our work accessible and affordable in a variety of formats; and continually sourcing our work from our hearts, integrity and spiritual nature.
Our Philosophy
Without a doubt, the past fifty years have yielded important advantages in terms of opportunities and choices for both men and women in many arenas. However, another result of our cultural changes is an expectation that men and women are not only equal, but also, the same.
New expectations and behaviors cause conflict and confusion in all types of relationships. In many cases, women want men to be sensitive and emotional while remaining ambitious and protective. On the other hand, we all know successful, self-sufficient, independent women who have been dismayed to discover - and even more reluctant to admit - that they would actually enjoy a good, strong, dependable man. Conflicting desires and misinterpretations have led to confusion, disappointment and frustration, heartache, disrupted families and ineffective working environments.
Longing for peace and satisfaction ourselves, we began to wonder if there was an alternative for all relationships between women and men. Through study and real-world application since 1991, Alison Armstrong has developed a new way of relating to men and women from a profound understanding of the fundamental differences in human instincts and expression.
Since 1995, workshop graduates have proven that men and women can be partners instead of adversaries. By expecting our differences and working with them, we can indeed learn to trust each other, support each other and achieve satisfying relationships.
About Alison A. Armstrong
Educator and Advocate
Born in Laguna Beach, California in 1960, Alison Armstrong has been designing and leading transformational programs for adults for almost 40 years. In 1995, after four years of studying men for her personal benefit, she created the Celebrating Men, Satisfying Women workshop to share her extraordinary findings with women across the nation. With her friend Joan McClain, a banking executive, she founded PAX Programs Incorporated with the mission of "altering society's culture by transforming the way women relate to men."
No stranger to revolutionary initiatives, in 1990 Alison founded the Orange County Summit for Children, a bold project described by the Presiding Judge of the Orange County Juvenile court as one which, "has forever altered the way children's issues in Orange County are addressed." (LA Times) For 2½ years, Alison provided the vision and inspiration in persuading representatives of government agencies, nonprofit organizations, educational institutions and philanthropic foundations to align and cooperate in serving the needs of Orange County children.
As chairperson of the Orange County Homeless Issues Task Force (OCHITF) from 1989 to 1991, Alison managed strategic planning and implementation of unique multi-agency projects. She chaired the Task Force Research Committee, creating an unprecedented alignment between Orange County demographers and University of Irvine sociologists to produce and publish a comprehensive study of homelessness in Orange County. During her chairmanship, the OCHITF was named by the Orange County Grand Jury as "the most effective organization addressing homelessness in Orange County."
So how did Alison get from and being an advocate for the homeless to teaching women how to understand and appreciate men?
"Half the homeless in Orange County are children. And the root of homelessness for many adults lies in childhood – things that didn't happen that should have, like learning to read; and things that shouldn't have happened but did, like abuse. In 1994, my personal compulsion to understand men converged with my personal and professional commitment to children. I realized one of the best ways I can help children is by altering the way their parents relate to each other. By shifting those relationships from the adversarial context we inherited, to the partnerships that are now possible, parents can create home environments in which their children flourish." Alison continued, "We receive wedding announcements and baby pictures with thank you notes saying 'this wouldn't have been possible without your work', and I think they're wonderful. But I am moved to tears when I hear about a family that was restored or a divorce that was prevented."
Is Alison a Psychologist?
"I'm asked that a lot," Alison laughs. "Actually, I am a college drop-out with an obsession for understanding the way things work. My father is an engineer. I think I inherited his brain but I apply it to people and relationships." Alison regrets her lack of education: "Sometimes I am painfully aware of my ignorance. I don't understand poetry, I've never read the classics, and my geography is terrible." But, she adds, "They don't have degrees for what I want to know. You can get a degree in Women's Studies from many universities but not one offers one in the study of men!" She notes, "Some of our biggest fans are psychotherapists, for themselves personally and for their patients. They also wish they could have studied in college what we offer." Does Alison ever intend to pursue a degree? "I think about it. I would love to study biological anthropology. Meanwhile, I'll cherish the honorary doctorate I received from 'Prager University' when I was on Dennis Prager's show on KRLA in January 2004."
Home and Family
Alison was married to Greg from 1993 until his passing in 2019. People often commented on their marriage, assuming they must be newlyweds. "Greg and I sometimes made people uncomfortable, although we didn't mean to. I just had the worst crush on him." And she adds with a smile, "Greg said he worshipped the water I walk on."
Referred to as "my Renaissance man," Greg was an important part of her research and support system, and was the central element of their family as "an amazing father." Their 2 daughters and Alison's son are living independent lives in Arizona and Texas.
Alison now lives in rural Western Colorado with her Border Collie, her "ponies" and a host of wild critters. She loves to ride, drive, hike and work with her tractor.
Read what people are saying about Alison.
In Memoriam
Greg Lewis
1950-2019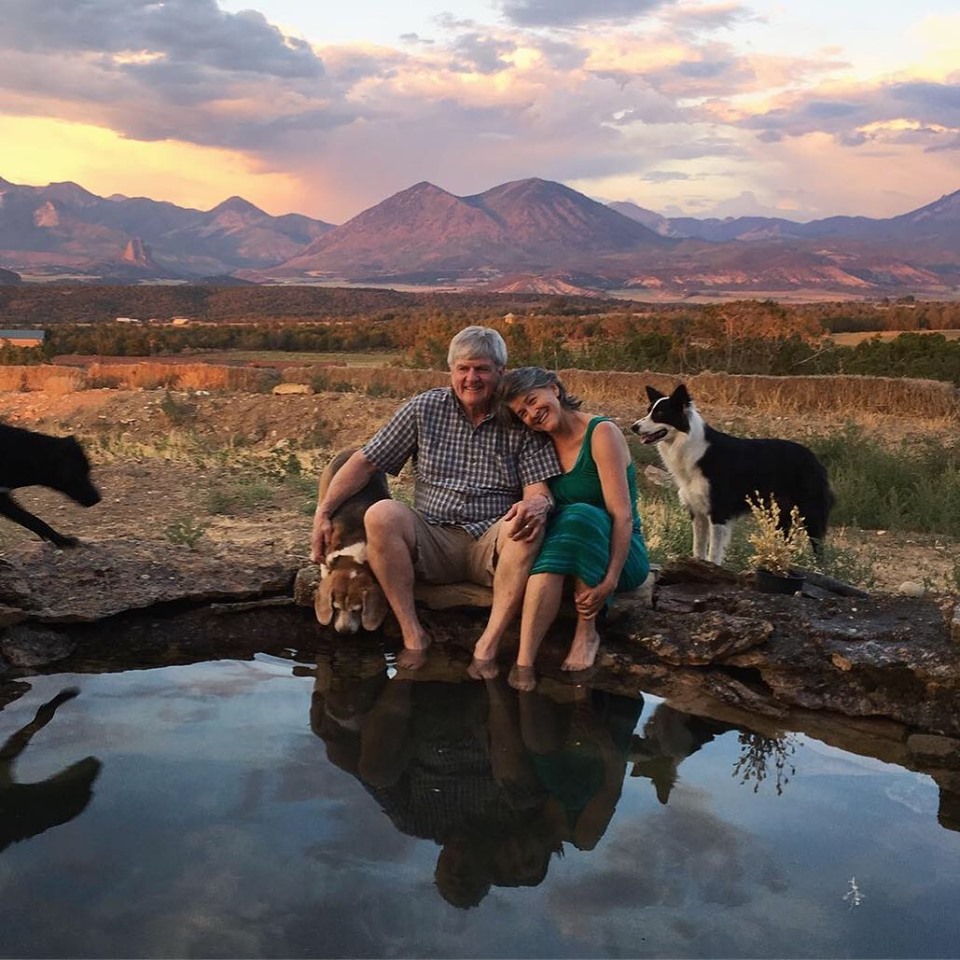 Alison's husband, Greg, "left on his cosmic adventure" after a sudden heart attack. They were together; Alison had just been thanking him for being an amazing husband and father.
Since Greg spent the last 28 years of his life making sure she was always in good shape to fulfill her life's purpose, Alison has been honoring him by continuing her work and loving the family they created together. She's been generously, and sometimes hilariously, sharing this part of her journey, including all the joy and grief and rebirth she's experiencing.
Alison still feels surrounded by Greg's love and encourages everyone to find his Spirit everywhere; especially in the big blue sky. If you want to honor Greg, she recommends that you listen with patience and curiosity to a stranger, enjoy a cappuccino, pay for someone's meal or bridge toll, admire a car (and wash it), tip generously, or eat chocolate.
Alison continues to be deeply grateful to have spent almost three decades with such an extraordinary person.
Dr. Gilda Mathews
1950-2010

Former PAX Programs board member and source of the Spanish Celebrating Men project. In her time with PAX, Gilda led: The Queen's Code Workshop (formerly Celebrating Men, Satisfying Women®) and The Queen's Code for Life (formerly Celebrating Women: Regarding Ecstasy & Power™).
Gilda was an island girl born of the enchanted tropical paradise that is Puerto Rico. The Navy provided her father plenty of opportunity to see the world, so Gilda took advantage of the frequent travel to expand her own universe. She loved meeting new people and experiencing different countries and cultures.
In fact, Gilda loved the world's diversity so much that she attained her master's degree in social work and her doctorate in clinical psychology to facilitate deeper study into the human experience. She worked with clients from all walks of life in both her private practice and in public service.
"Dreams actually do come true, and I stand as living proof," Gilda declared. She immediately recognized the value of the work at PAX and saw how it was aligned with her life's vision. Living her life purposefully as a leader for PAX was an answered prayer for Gilda.
Gilda's realized dream? Her husband, Donald Anderson. Gilda stated she may never have seen him as "a dream come true" had it not been for what she learned in PAX workshops. Gilda loved to dance and take long walks on Southern California beaches. She surrounded herself with friends and family who shared her passion and enthusiasm for life.
We were blessed by being a part of Gilda's life and self expression. She is missed every day.