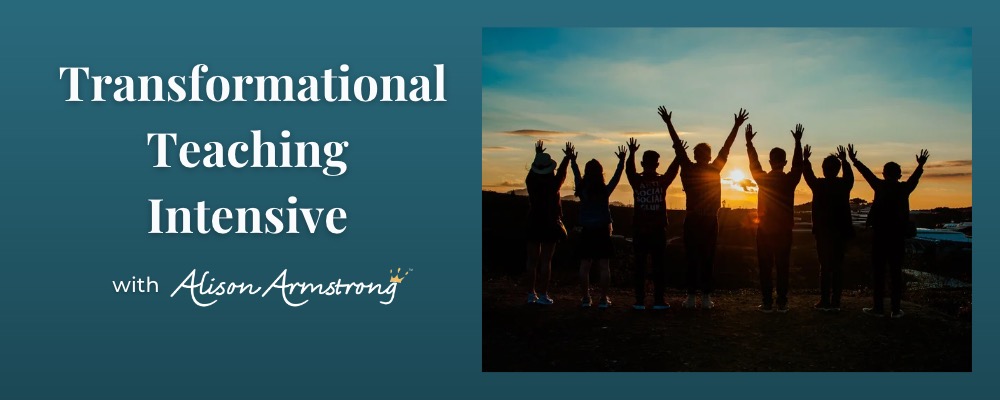 If you've noticed~
that not all teachers and speakers connect equally...
nor make a difference as quickly and deeply...
and have the courage and humility to explore how your impact is limited and expanded by HOW You're Being, Listening and Speaking...
Alison Armstrong and PAX co-founder Joan McClain are offering an online version of the training program that taught ~ and transformed ~ hundreds of women and men to make a bigger impact with the content and people that mattered to them.
Exclusively for those who already have an audience:
Such as therapy, podcasting, radio, television, webinars, etc.
AND are PASSIONATE about touching
both HEARTS and MINDS!
You will Learn, Practice and Demonstrate the Abilities:
To illustrate your concepts with uniquely memorable examples that leave your teachings alive in the minds and lives of your students
To embody a consciousness that attracts and holds your audience's attention across time and technology
To encourage others to interact with your material and insights mentally, physically and emotionally
To be genuinely more self-expressed and engaging; shedding self-consciousness and leaving behind intentional and unintentional contortions to please and adapt.
The Transformational Teaching Intensive utilizes methods based in neuroscience to cause leaps in ability and embodiment. You'll be able to practice then translate these methods to improve the impact of your delivery and your message.
Transformational Teaching Intensive
Part One*
The first Transformational Teaching Intensive is underway. We haven't committed to another session of "Part One." Your interest can affect that!
Information Exclusively for Mastery Graduates
You may still join until October 1
*This is the first of three parts. Part Two builds on the skills successfully developed in Part One. Part Three, by invitation, is a certificate program for teaching and coaching selected Alison Armstrong content.