Alison's Exclusive Intensive
The next Live Being Extraordinary Intensive sessions will begin in 2024. Registration, with access to the course resources, will open in early October, 2023.
See the 2024 Course Schedule and Preparation Plan
Sign Up to be notified when these options are available
THREE LIFE-ALTERING COURSES
20 – 34 HOURS OF ONLINE VIDEOS
• Critical Missing Pieces
• Extreme Freedom
and Your Choice of
• Being Extraordinary as a Woman or Being Extraordinary as a Man*
*If you Pay in Full, you'll get BOTH courses
~ a breakthrough in understanding what brings out the best in the opposite sex!
PLUS
14 EXCLUSIVE IMPLEMENTATION SESSIONS
10 Exclusive Live Sessions with Alison to customize key components of the Being Extraordinary Intensive courses with the most up-to-date Illumination
4 Exclusive Live Sessions, with co-founder Joan McClain, to restore your Heart, Honor, Freedom and Power
The COOLEST BONUS OF ALL TIME!
Access to the Understanding Level online courses you've purchased until June 30
• Including the Bonus Live Interaction calls with Alison
Cross-reference, refresh and apply it all in the context of Being Extraordinary!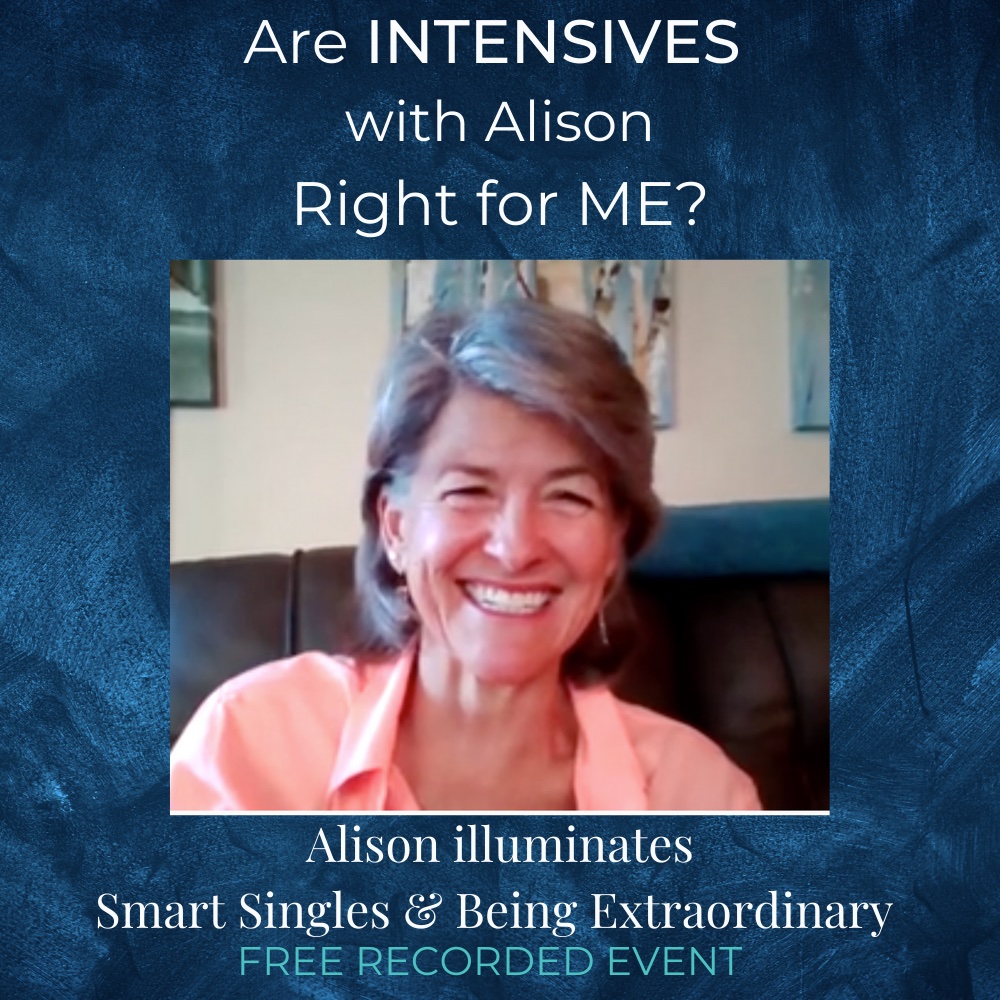 "For me, it's gotten me really clear about my purpose in life, how I show up, both for myself and the people around me. It's helped me really clarify what fills me up and allows me to function at my highest capacity. But also, the big awakening for me was really protecting myself against those things that deplete me, that can just take me out and prevent me from functioning the way I want to function and show up the way I want to show up." — Apple B., Wisconsin
Need help choosing Being Extraordinary as a Man or Being Extraordinary as a Woman?
Our behaviors are affected by so many variables -- including biology, hormone levels, being in a committed "Hunting Mode" or open "Gathering Mode" -- that it's common to relate to the experiences of both men and women. Consider if your experience of yourself resonated more with the information in Understanding Men or Understanding Women? Honor your experience of yourself and what empowers you.
If you Pay In Full, you get BOTH and no picking required!
THE
BEING EXTRAORDINARY
PACKAGE
Want to go at your own pace?
Don't Need the Most Up-to-Date Illumination and Elaboration from Alison?
THREE LIFE-ALTERING COURSES for Up to 6 Months!
20+ HOURS OF ONLINE VIDEOS
• Critical Missing Pieces
• Extreme Freedom
and Your Choice of
• Being Extraordinary as a Woman or Being Extraordinary as a Man*
*Includes monthly Live Interaction calls with Alison


"The course provided me with the strength, courage, and commitment I was able to find within myself! I no longer have to seek elsewhere!" ~ Marcella Sidelink
"Alison paves a path that any woman can follow to increase her femininity, happiness, health, success.... and any of qualities of life that are important and essential to her. She confronts the common belief that women have, that we must to produce in order to receive. It's a tough belief to release- and with Alison's gentle encouragement, we can open to receive the generosity of spirit that is abundant. The Online Program format is wonderful, as it gives you ample opportunity to review and reflect and engage at the depth you desire, to create the kind of life you dream. Beautiful gift to women!!! Thank you." ~ Elizabeth Mayne
"Thank you Alison and your Team FOR opening my eyes and giving me the opportunity to reclaim the power of being a Queen, for giving me my sons and my family back. It was the most important and powerful experience ever for me. My Being is full of Tears of Gratitude and Love. You are that light in a long tunnel of fear, frustration, agony and misery. You are the end of the voice that used to live in my head creating monsters and all kind of obstacles. Thank you!" ~ Victoria, New York, USA
"...Thank you for hitting the bulls eye regarding what makes a man feel extremely blessed by the woman who really knows how to be a queen. Alison, thank you for all the research you and your team has studied to allow us to understand what it is that women can become that lights our fire! Thank You!" ~ Gary, New York, USA
Just ready for a specific course?
Being Extraordinary as a Woman
Talk to us directly and get answers to your questions: Toll Free: 800.418.9924 ext. 851 (International: 626.389.4927) or email: Consultant@AlisonArmstrong.com