Concealing What Really Matters To You?
Afraid to tell THE TRUTH about a "Deal-Breaker"?
Looking for the Right Time and the Right Words?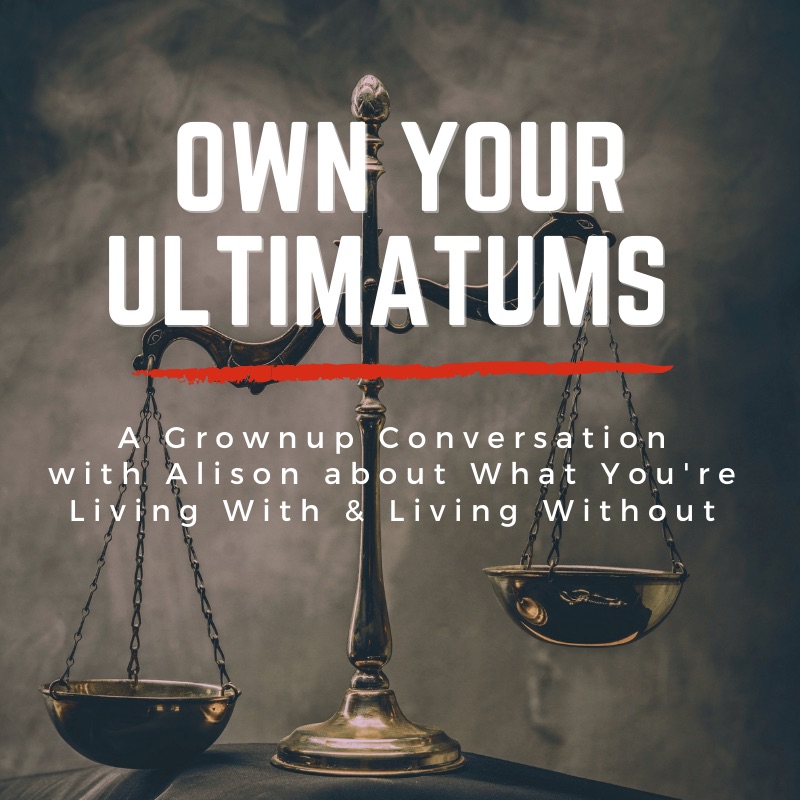 ULTIMATUM: a final, uncompromising demand or set of terms issued by a party to a dispute, the rejection of which may lead to a severance of relations or to the use of force; a final proposal or statement of conditions.
What if Ultimatums aren't the problem? After all, everyone has at least one, in every area of life...
Something you can't live with ~ or can't live without ~ but probably have been anyway!
Join Alison Armstrong as she illuminates ULTIMATUMS
with her signature humor, compassion and practical solutions
in her NEW eCourse!
Only $49
Access 2+ hours of stimulating, self-paced Online Videos for 30 days
Utilize prompts to expand upon the value

of the information in the videos and create a bridge to implementation in your life

Join Alison for transformational exercises in your choice of a 90-minute Live Interaction PLUS webinar session.

The recording of your chosen session is provided in your eCourse.
Space is Limited
You Will Learn:
WHY unspoken ultimatums always undermine love and passion
HOW the fear of ultimatums creates more problems than ultimatums themselves
WHY both women and men present ultimatums at the worst time
WHY lack of commitment causes costly "false hope"
HOW to articulate your ultimatums so they are clear and actionable
HOW both beliefs about "deserving" and "not deserving" will keep you from getting what you need
HOW to learn another person's ultimatums before surprise, betrayal and fear of loss cloud your judgment
WHEN and HOW is the best way to present your ultimatums
WHY ultimatums ultimately serve people committed to respecting both themselves and others.
Surprising benefits will come from Participating in a Live Interaction PLUS Webinar with Alison!
By Attending Live, you'll have a Chance to Experience
Connecting with men and women who desire more honesty and authenticity
Stating your "deal-breakers" without being defensive, aggressive or emotional
Listening like a "treasure hunt" ~ so you can hear ultimatums easily and early
Interacting with Alison directly!
Talk to us directly and get answers to your questions: Toll Free: 800.418.9924 ext. 875 (International: 626.389.4927) or email: Consultant@understandmen.com