---
---
Concealing What Really Matters To You?
Afraid to tell THE TRUTH about a "Deal-Breaker"?
Looking for the Right Time and the Right Words?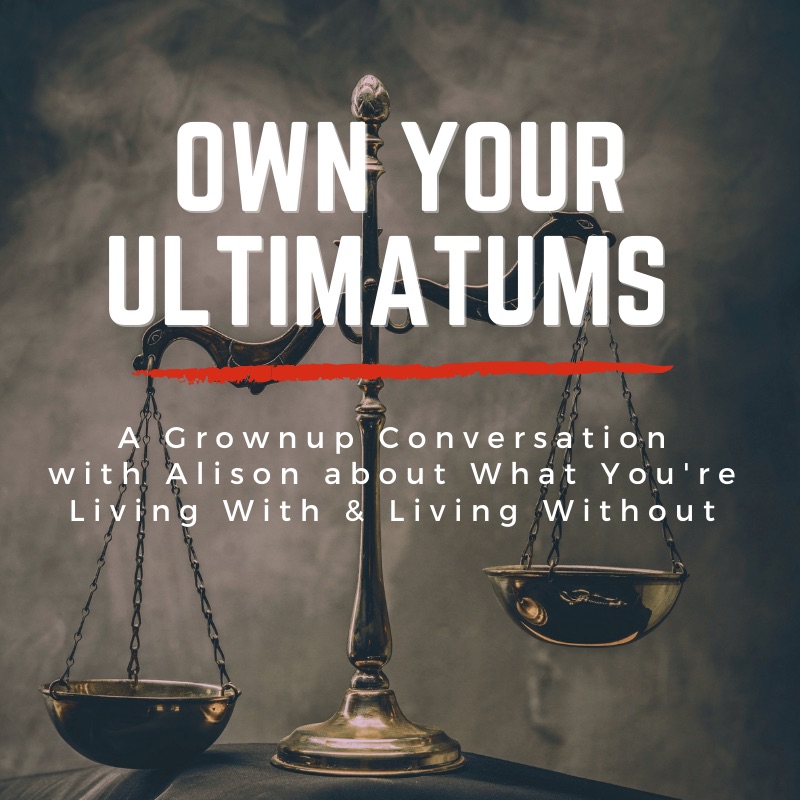 ULTIMATUM: a final, uncompromising demand or set of terms issued by a party to a dispute, the rejection of which may lead to a severance of relations or to the use of force; a final proposal or statement of conditions.
What if Ultimatums aren't the problem? After all, everyone has at least one, in every area of life...
Something you can't live with ~ or can't live without ~ but probably have been anyway!
Alison Armstrong illuminates ULTIMATUMS
with her signature humor, compassion and practical solutions!
Only $49
Own Your Ultimatums

Ultimatums can create more relationship satisfaction!
"It sure did!!! We are back in love. I had signed up for the live webinar...studying the material. It's awesome! We were really in trouble and this gave me the hope, the tools, and I released a lot of previous upset, just like that. Thank you Thank you Thank you!!" ~ Manuela, The Netherlands
You Will Learn:
WHY unspoken ultimatums always undermine love and passion
HOW the fear of ultimatums creates more problems than ultimatums themselves
WHY both women and men present ultimatums at the worst time
WHY lack of commitment causes costly "false hope"
HOW to articulate your ultimatums so they are clear and actionable
HOW both beliefs about "deserving" and "not deserving" will keep you from getting what you need
HOW to learn another person's ultimatums before surprise, betrayal and fear of loss cloud your judgment
WHEN and HOW is the best way to present your ultimatums
WHY ultimatums ultimately serve people committed to respecting both themselves and others.