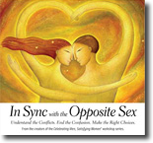 In Sync with the Opposite Sex
™
A 4½ Hour Live Presentation Audio Recording
You'll listen in as Alison Armstrong thrills, surprises and delights a group of single men and women, leaving them with information that will transform their dating.
Listen to a sample now!
---
Grab onto fun, intimacy, and satisfaction in dating.
Understand how the most basic instincts of men and women pit us against each other in the world of dating and relationships. Learn how to get what you need from your dating counterparts. Avoid being tripped up by the "benchmarks" and "timelines" of dating and relationships. Understand how "false advertising" sabotages your efforts to have satisfying relationships. And much, much more…
Unravel the mixed messages you receive.
Get to the deal breakers early on, before anybody gets hurt.
Avoid coming on too strong and know how to deal with someone who does.
Eliminate the pitfalls inherent in pursuing the one you want.
Be more self-expressed and less misunderstood!
---
"Great course! Really provided understandable reasons for the breakdown in dating with solid recommendations for being successful in getting what you desire without the suffering." — Celeste P., Michigan, USA
---
This product is available in two formats:
As an Audio CD, with definitions and a diagram referenced in the program.
As a 90-day Online Program which brings together both audio and visual elements with highlights, definitions, diagrams and notes to read while listening.
---
30 Days Access - Begins upon Checkout
---
"I absolutely loved all the information shared. Helped me clarify what I want in my future, and I am floored at how much more confident I feel about starting a new relationship. If anything, just having "what a relationship means to me" defined was well worth the money spent on the course!" ~ Anonymous, Los Angeles, USA
---
In Sync cover illustration © 2005 Roxana Villa www.roxanavilla.com