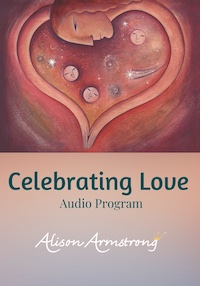 Celebrating Love
Audio Program
54 Minutes - Audio (Recorded Event)
When we fail too much — to be understood or to be appreciated, to get what we need or to achieve what we want — there comes a moment when we give up. And in that moment, we lose more than love. We lose part of ourselves, part of our vitality and part of our power.
Listen to a sample now!
---
---
Imagine love unrestrained by frustration or failure...
for people, passions and projects held dear.
In Celebrating Love, acclaimed "relationship-angel" Alison Armstrong scouts the thorny woods of loss and resignation and leads us back to the experience and full expression of love. With her trademark warmth, wit and wisdom, Alison will reconnect you with the true source of your power and potency in every area of life.
Join the audience in this once-in-a-lifetime event, punctuated with real time surprises!
Celebrating Love
Listen on the NEW Alison Armstrong Mobile App
Audio and eBooks are non-refundable
Audio also available at:
Note: AlisonArmstrong.com, as an Amazon Associate, Earns a Commission on Purchases from the Amazon Links above.
Celebrating Love cover illustration © 2007 Roxana Villa www.roxanavilla.com