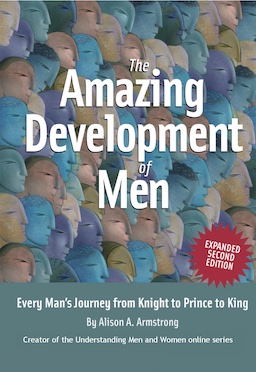 The Amazing Development of Men - Expanded 2nd Edition
Audio Program

A 3 Hour and 25 Minute Program from a recorded live event
Featuring even more fascinating information about men's evolution!
This Audio Program illuminates the Stages of Development for men of all ages and in all circumstances. It also features comments by 12 men, adding their experiences to the Stages of Development.
Listen to a sample now!
---
---
The Stages of Development describe the life-long process by which a man's sense of Self evolves. Predictable and unavoidable, these stages determine what men live for, and what they can't live without. Understanding the differences between Knights, Princes and Kings is critical for success in romantic relationships, raising sons, and working effectively with men.
---
"What I love about the Amazing Development of Men Expanded 2nd Edition is that it is an intimate conversation chock full of information and goodies about men and why they do what they do. It is a celebration of who men are and who they are becoming." — Alison Armstrong
---
In this intimate conversation, you'll learn:
What men can and cannot provide at each stage
How to avoid the tragic mistakes women make
What's really happening during a "mid-life crisis"
What makes a man "ready" for relationship, marriage and children
The importance of adventure to men of all ages
Plus much more!
---
Online Program with 30 days of Access
Slide Enhanced with Key Points
Audio Program - New Mobile App
---
"This cleared up so much for me with regards to my relationship with my husband and 18 year old son. I understand a lot more now and feel capable of being on the path with them instead of ending up in the dead end scratching my head and stamping my foot. Thank you." — April, Australia
---
Amazing Development of Men 2nd Edition cover illustration © 2007 Roxana Villa www.roxanavilla.com