To make sure this event is for YOU, and jump start your Freedom,
WATCH this excerpt:
For the remainder, see Q&A Part II below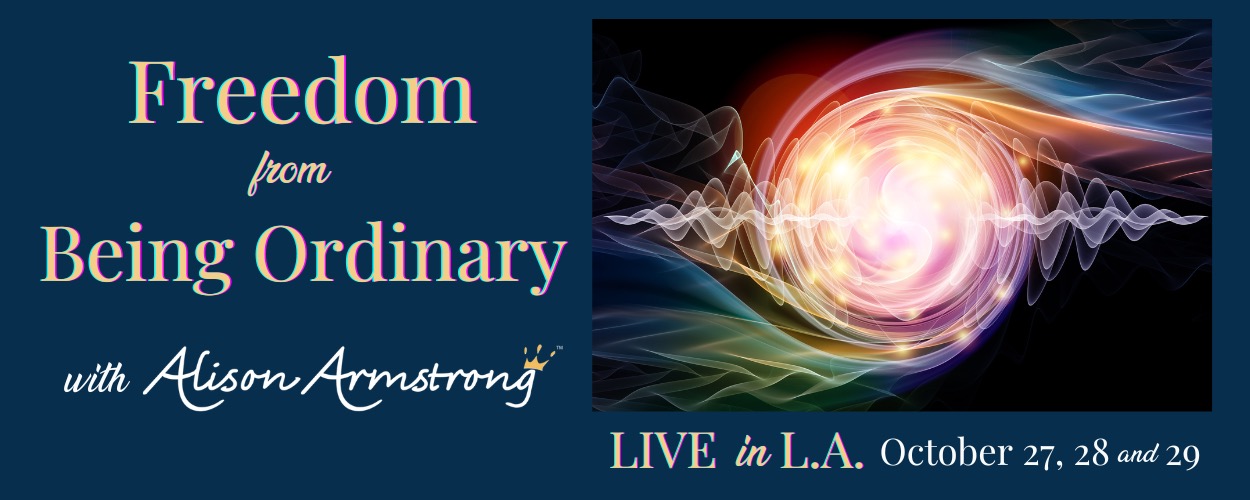 Ordinary: commonplace; unexceptional; plain or undistinguished; the commonplace or average condition; something regular, customary, or usual.
Many people believe that we should be normal, happy and "well adjusted".
We should be able to accept ourselves and others, and handle stress easily.
Oh, and we should also have fulfilling relationships ~ naturally ~ in all contexts!
These beliefs ignore that we were born HUMAN; with hard-wired human instincts that CAUSE men and women of all ages to STRUGGLE with:
Truly understanding and honoring ourselves
Maintaining self-love, self-acceptance and self-care
Effectively expressing our most important needs and dearest desires
Gaining help and support ~ and turning "Yes" into new realities
Being true to ourselves in the face of fear, rejection and potential loss of respect and love
Competition and prejudice when we're seeking connection and cooperation
Feeling powerless to cause sustainable intimacy and commitment
Most of us try to explain, overcome, solve or hide these ordinary experiences personally. As if they are a reflection of something special, damaged, exceeding or unusual about us individually.
What if transcending our challenges depends upon questioning the true Origins of these struggles?
In a CO-Ed Live Event on October 27, 28 and 29 in Los Angeles,
Alison will illuminate and de-construct "the Ordinary Human Experience"
to transcend what we've inherited and cause what really matters.
Includes Bonus of The Essentials online prerequisites*
($1,292 Value)
Tuition goes up October 4**
With Illumination, Fun, Courage, Celebration and a Sense of Humor, we will:
Join Alison ~ and worldwide graduates of our acclaimed online curriculum ~ for this game-changing live event in Los Angeles. It truly begins when you register and start transforming your experience of men, women and relationships.
JUMP Start on Zoom
Tuesday, October 17
5:00 - 6:15 PM Pacific Time
Live Workshop at the Sheraton Gateway, LAX
Friday, October 27
10 AM - 7 PM Pacific Time
Saturday, October 28
10 AM - 7 PM Pacific Time
Sunday, October 29
10 AM - 4 PM Pacific Time
(Attendance at all previous workshop sessions is required for admittance Saturday and Sunday. These are the only dates currently scheduled for this workshop. Alison does not promise to do it again.)
**Tuition and Pay Plan Options
Late Tuition $1,595 through October 3
2-Payment plan available
Really Late Tuition $1,695 starting October 4
Paid-in-Full only
Includes Bonus of The Essentials online prerequisites*
($1,292 Value)
*Online Course Prerequisites are a Bonus with purchase. AND they are so cool!
LUX: Liberation. Understanding. Extraordinary Relationships online course
Understanding Women online course
Understanding Men online course
Start when you register, and connect with Alison on monthly Live Interaction calls for help with clarification and implementation of the 33+ hours of video. (Prerequisites must be completed before admittance on October 27. Yep - even if you've taken the in-person workshops.)
---
Watch the rest of the Q & A from Thursday, September 14
And immediately start Transcending the Ordinary!
---
Talk to us directly and get answers to your questions: Toll Free: 800.418.9924 ext. 851 (International: 626.389.4927) or email: Consultant@AlisonArmstrong.com